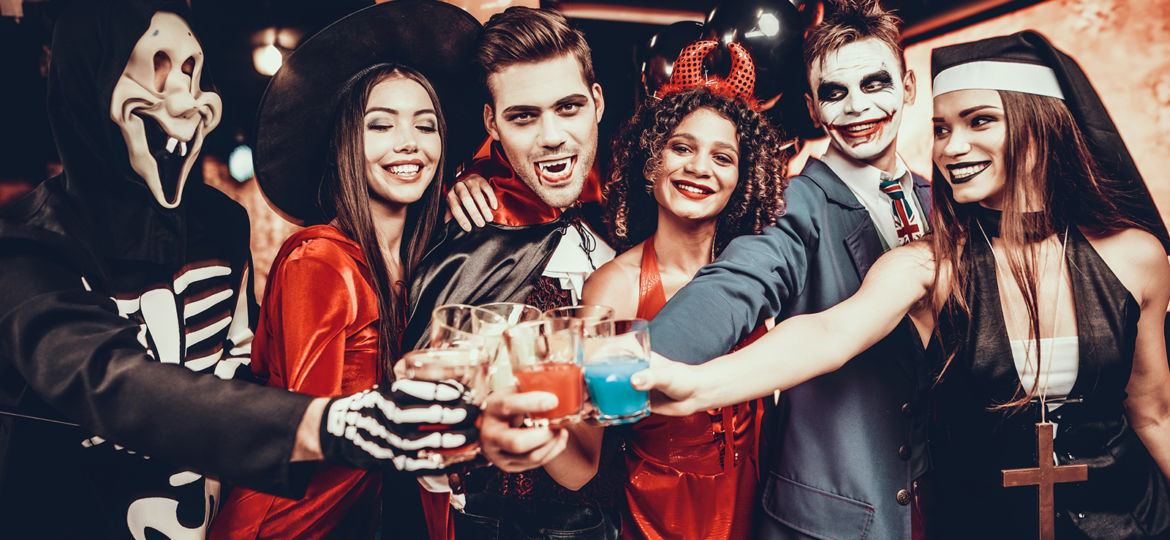 We are all at the age where we, unfortunately, can't go trick-or-treating anymore (at least I hope you're not). Despite the lack of childhood fun, we can surely treat ourselves with some spooky Halloween adult fun. Who doesn't love ghosts, pumpkins, foggy cocktails, and an excuse to dress up as anyone and anything? Just like any event, it's crucial to not only focus on décor and food but also entertainment! A Halloween event has such a wide array of games and opportunities for your guests to have a night they won't forget.
If you're a caterer or an event planner, there are numerous concepts you can include in your next Halloween event to make it a success. Continue reading for all of the different concept ideas.
Décor
In order for guests to get the full spooky effect, the décor has to be on point. Although a fog machine, cobwebs, and jack-o-lanterns are traditional and still quite appealing, there are so many different and unique décor options out there. For example, a freakshow theme or Dawn of the Dead theme would take your guests by surprise. It is also essential to appeal to not just the eye but all the other senses! The spooky season presents so many opportunities for fun twists on your average event. For a Halloween event, putting on some tunes to set the mood will get guests up and going (like monster mash, a classic jam). While on the media topic, playing a classic horror film will set apart the true horror fans, especially with a movie like The Exorcist or Carrie. Lastly, décor has to match the demographics of the event. You wouldn't want decorations that were too scary for a child's Halloween party.
Food
Nothing is more unappetizing than a generic bowl of candy and a bag of pretzels (unless it's a boring Monday night). Your guests deserve some quality food on such a fun holiday! Food is not the thing you want to skimp out on, especially if your costume and décor are stellar. Good food doesn't have to mean junk and sweets. Turning a healthy dish into a scary display would be unique and exciting. For example, laying out a skeleton prop on a table and using different vegetables and snacks to represent its organs would ramp up not only the décor but the experience (olive eyeballs have never tasted better). It's better to stay away from whole meals like intestine spaghetti and stick to finger foods that are easy to eat while mingling. Delish or Pinterest can be great resources if you're stuck on getting ideas. A lot of what they showcase is easy to replicate and put your own spin on.
Costumes
This topic may be the most important when it comes to the theme you choose for the event. If you choose a theme like a freakshow, selecting a costume such as a bearded lady or sword swallower would fit perfectly (hopefully, you don't take the swallowing part too literally). Going with a theme makes it easier for your guests when it comes to deciding what their costume will be because it creates a narrower array of options. A costume contest can also be an exciting thing to include in your event. It can entice people to get into the spirt more and match the theme of the event you are planning. No matter what costume theme you decide to go for, it's essential to ensure that there are a lot of comfortable options for your guests. There is nothing worse than going to an event and wearing a costume you don't want to be.
Games & Entertainment
It doesn't matter how good the food is or how visually appealing the décor is, every party or event needs entertainment elements. At some point in the event, guests can only talk so much and eat so many snacks. They are bound to get bored if there is no entertainment. Creating a photo booth with funky and spooky props will give your guests something to do while also allowing them to take a piece of the party home with them. The games you decide to create for your event should correlate with the theme, but some general games could include eyeball pong, apple bobbing, and pumpkin bowling. The options for entertainment on such a crazy holiday are endless! If there is any holiday you want to be toned down or laid back, this is not the one. Halloween doesn't have to be just for children; in fact, Halloween as an adult could be more fun than it ever has been.
Conclusion
As a caterer or event planner, who doesn't love Halloween? It's the perfect chance to kick off the fall and winter holiday season. When you take advantage of all of the resources out there, you're sure to make your next Halloween a success.