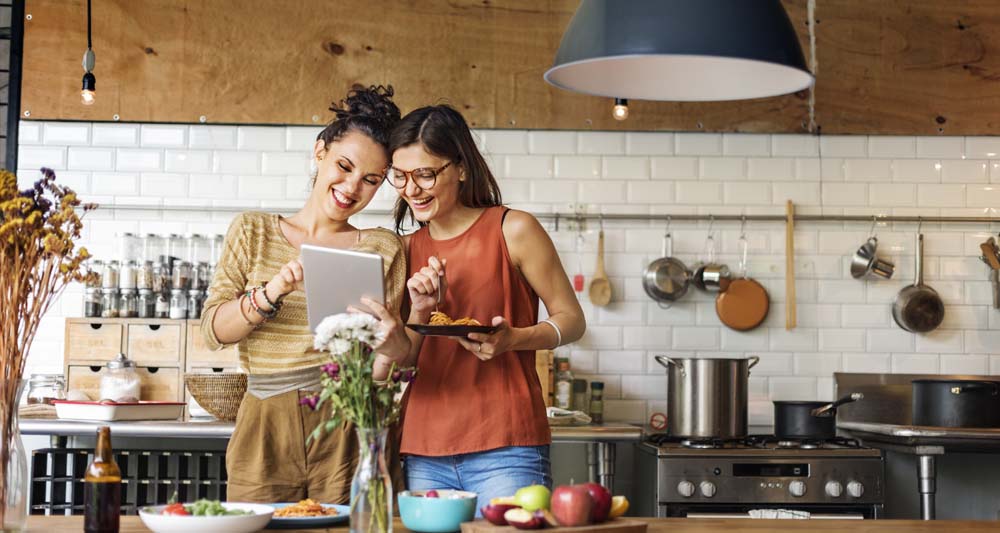 It's an exciting time for caterers. Consumer spending is on the rise as of the end of August 2018. With a rise in consumer spending, comes a rise in catered events. This success is inspiring many people to start their own catering business. For many aspiring caterers, it all begins as a home-based business. It's a much more affordable option and is the perfect scenario for putting more concentration on growing your business rather than paying most of your profits to your business's location.
If you're considering starting a home-based catering business, check out a complete list of tips below:
1. Do Your Research
With any new business, you need to do your research. Start with your competition and see what's working and not working for them. You wouldn't want to repeat any mistakes they made. Would you? Find your competitive advantage and run with it. There could be an opportunity to be the next big dessert caterer or the caterer who makes the best pasta in town. Next, research the demographics and location you are trying to reach. You wouldn't want to specialize in catering for upscale banquet hall events, when your primary demographic is young people, under 25.
2. Get the Right Licenses
Home-based businesses require different licenses then commercial businesses. In most states, the health department will not license a home-based kitchen because they believe it's not safe to sell food prepared at home. In that scenario, there are other options like renting a commercial kitchen or asking local businesses like churches if you can use their kitchen. You can still use your home as a hub for doing all your office work and marketing. Next, you can't have a food business without food liability insurance. Think about it, your business is finished if you don't have this and someone gets sick from your food. Finally, you may need a business license and if you are serving alcohol, a liquor license will also need to be acquired.
3. Make A Menu
A good catering menu is all about diversification. With all the foodies out there, people want to not only try the next big dish but also experience it. Don't overextend yourself when it comes to your menu. Make a plan of how you will facilitate said menu for a typical event scenario. When you are making your menu, you also need to keep in mind your pricing. As most home-based caterers are just starting out, you probably don't want to have a menu that is full of the most expensive ingredients. However, it doesn't have to be full of the cheapest either. Catering clients will expect the markup because they know of all the operational costs a catering business has. If they don't understand, then don't be afraid to give them a better understanding.
4. Have the Right Tools
Sorry, but the current frying pan you have is probably not going to cut it if you're just starting your catering business. Depending on how your initial research went, will depend on the type of equipment you need. Your equipment is an investment in the future of your business. The equipment you use can be a big factor to get your business up to code. Should you rent or buy equipment? Is a common question many new caterers are faced with. Some questions you should ask yourself when deciding would be:
a. What can I afford?
b. What will my menu require?
c. Is the risk of renting worth the reward?
It all comes down to if you can afford to buy or if you are willing to take the risk that comes along with renting. For many, it's a personal preference. In the end, it's all about how big this be an investment in your business.
5. Have Adequate Storage
You're going to need storage no matter what way you look at it. To run a successful business, you need to be organized. Storage can keep your cooking equipment and customer information in a centralized location. For cooking equipment, many people have found success with vertical space. It tends to be inexpensive and can be perfect for hectic event preps.
6. Work in Your Staff
Having staff for a home-based catering business may seem challenging because they technically don't have a place of business to report too. You also don't want to have too much staff that work at your house. It's true what they save, too many cooks in the kitchen is a bad thing. A good suggesstion would be to have some employees work remotely. A lot of home-based catering businesses, often get their sales managers to do it. Make sure you find the right people who can work remotely though. Some people will think it will be the perfect opportunity to goof off and make money while no one is watching. Be upfront with your expectations and remember that any employees that do work from your house aren't mixed with your family life.
In The End
Starting a new business can be stressful no matter the industry or location. Stay flexible and always be learning. Things will go wrong, and it's how you respond to them will determine the success of your business.